Written by Michael Patrick Spens, Wormiston, Fife, Scotland Nov 2011.
THE MONUMENT TO MASTER HUGO SPENS ST SALVATOR'S COLLEGE CHAPEL
ST ANDREWS.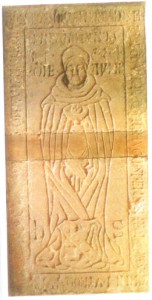 A 16th Century sepulchral stone (c.. 1534/5) erected with a carved figure of Hugo Spens, in an ecclesiastic gown and cowl and above his crossed hands, a chalice with Cross. At the foot is a carved heraldic shield hearing his Arms: A Lion Rampant surmounted by a Bend charged with two Buckles between three Lozenges. These are the patronymic Arms of the family of Spens of Wormiston, Barons of Wormiston (erected at a sitting Scottish Parliament held by King Robert I in St Andrews in March 1309.) This line is the seniormost of the Spens family. On the stone, these arms are correctly differenced with a second buckle and third lozenge as additions, signifying a Yr. Son of Wormiston (2nd/3rd son).
The Inscription about the figure reads in the Lain: – "Here lies a revered and excellent man our Master Hugo Spens, a distinguished theologian skilled in both canon and civil law…… who greatly enriched this place with gifts". (Obiit: 21 July 1534). Hugo would have been a younger brother of David Spens of Wormiston second son of Alexander Spens, (and his wife Mariota Anstruther,) in full succession to 8th from 7th feudal Barons of Wormiston; and hereditary Royal Constables of Crail and Castle).
Their later descendant, Sir James Spens 11th of Wormiston, combined Royal service, as Ambassador from King James VI & I at the Court of St James to the King of Sweden, Gustafus II Adolfus together with the post of Ambassador to Great Britain, from the King of Sweden for several years simultaneously: then being honoured by him with a Barony and estate in Sweden (1622). His direct lineal descendant today Count Barthold Spens in Sweden, is deemed to be the seniormost Spens titleholder, in the Spens Chiefship, overall.
Sources: Royal Commissionon Ancient Monunments of Scotland  Spens Historical Trust (Scotland/CountErikSpens´ Archive Sweden)